Please complete the form below to schedule your design and pricing meeting with our floral team. Please give us a call at 209-451-2292 if you have any questions.
Floral Design Meeting Request Form
Prices below reflect seasonal floral only. Price is dependent on your unique design requests, but the prices below will help you figure out a realistic budget. Take a peek at some floral types and when they are in season below.
•Ceremony: Floral for Altar & Aisle - Starts @ $1,500
•Non-Floral Tables: $75-$125 per table
•Floral Tables: More Greenery, Less Flowers $160 / Less Greenery, More Flowers $230 / Flowers Only $340 / Garland $200 (add flowers $50)
•Head Table: Sweet Heart Table $75-$300 / Full Head Table $75-$300 per table
•Sign In Table: Starts @ $175
•Misc Floral: Floral for Pub Tables, Lounges, Signage, Etc. - $180
•Flower Box & Cake Swing Floral: $300 (add colored silk to flower box $150 / add real floral in flower box $600 / add greenery to cake swing $200)
•Bridal Party Floral: Bridal Bouquet $120-$300 / Bridesmaid Bouquets $50-$85 / Boutonniere $15-$25 / Corsage $30-$45 / Flower Basket $40 / Flower Crown $65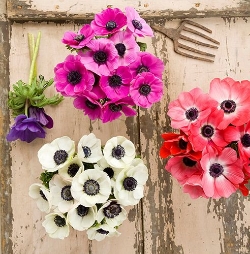 Anemone - Colorful, delicate blooms.
Calla Lily - Rich and vibrant color, trumpet shape.
Orchid - Exotic, Lush blooms with several vibrant colors.
Available year round. (Availability will be dependent upon grower. This is an upgraded bloom. Please add $20.00 for each bloom).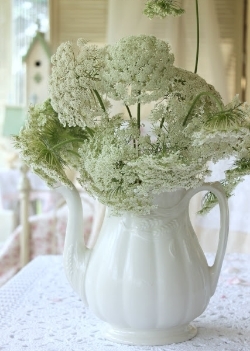 Queen Anne's Lace - Dainty fringe style bloom brings a delicate touch of the Victorian era.
Tulip - Rich, Velvety texture and color.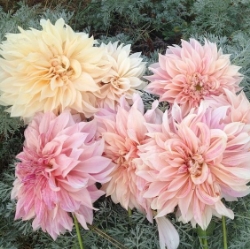 Dahlia - Full Bloom with beautiful color transition from stem to tip.
Best in Spring and Summer
Freesia - Dainty blooms with a delightful grace.
Hydrangea - Massive, lush blooms in vibrant colors.
Peony - Soft, full and lush blooms with a gentle fragrance.
Available May - June. (This is an upgraded bloom. We will provide a custom quote based on needs and availability).
Ranuculus - Cheerful colors and a full blossom.
Stock - Taller stem with several blooms. Available in several shades of rich color.
Available year round, best in March - August.
Chrysanthemum - Full, Rich, and Vibrant bloom.
Carnation - Traditional favorite, available in a rainbow of colors.
Gerbera - Large, cheerful flower faces grow in a rainbow of pastel and saturated colors. A member of the daisy family.
Lisianthus - Soft bloom with delicate petals.
Available year round, best May - October.
Rose - Classic bloom with traditional elegance.
Sunflower - Huge, showy blossoms shout out the joy of summer!
Greenery Options (Mostly Year Round)